Aspire Huracan Mini Sub-Ohm Tank 2ml - Black

We've been getting many requests for this kit, so here it is, the new Aspire Cygnet Revvo kit. The latest of the kit lines from Aspire comes in three up to the minute finishes, Grey and gold, red and black, and rose and rainbow. The Aspire Cygnet mod is powered by a single replaceable 18650 battery, with a maximum wattage output of 80W. It is a highly portable mod that supports Variable Voltage, Variable Wattage and Bypass modes. It's simple in design and has a fire button, 2 adjustment buttons combined to make navigating the mod super easy. And we've paired it with the ever popular Aspire Revvo mini tank that incorporates the innovative ARC coil.
Kit Dimensions

With a thickness of 24mm the Cygnet perfectly accommodates the Revvo mini tank, it has no sharp angles in its design making it very comfortable to fit in the hand, perfect for purse or pocket too.
Components view



To get the maximum benefit from the impressive revolutionary ARC coil, Aspire designed an equally impressive airflow system. The Revvo has a fully adjustable top airflow by way of 3 airflow slots. The air is drawn down, over, and around the radial coil maximizing the vapor and flavor delivered through the mouthpiece for the most satisfying vape experience.
Revvo Mini Filling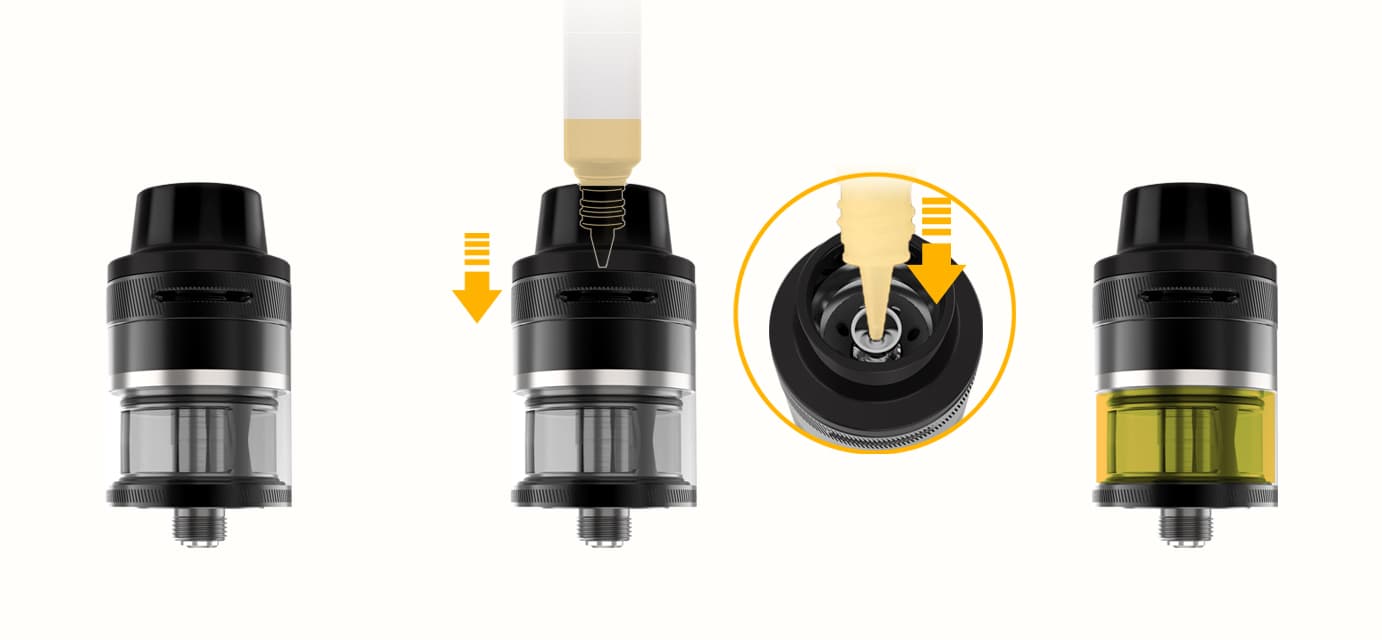 Filling the Revvo mini tank is another of Aspire's innovative designs, and it couldn't be simpler. In the centre of the tank, accessible directly through the mouthpiece, sits a spring-loaded filling tube. The spring of the tube is soft enough to allow even slight pressure from almost any type of bottle/glass dropper to open it, but strong enough to create a leak proof seal when released after filling and the strong Pyrex glass tank allows you to see at a glance the amount of e-liquid in the tank.
Cygnet Battery Installation

Installing the battery is simplicity itself, just unscrew the battery cover on the base, insert the battery positive contact uppermost (first) then screw the battery cover back in. Note: always use freshly charged batteries with no damage to the wrappers.
Safety Features

The Cygnet Revvo kit comes with all the safety features you've come to expect from Aspire.
Charging

Charging couldn't be easier, just attach the supplied micro USB cable to the charging port and attach to a power supply, the maximum charge current is 1 amp. When the battery charge reaches 4.2V or is fully charged, the mod will stop charging and the screen will switch off. Please note: Do not leave your mod unattended while charging and always use the usb cable provided to prevent damage to the mod.
Kit Contains
1* Cygnet mod / 1* USB cable / 1* 2ml Revvo Mini tank / 2* Coils (0.23-0.28Ω) / 1* Glass tube 10* O-rings / 2* Warning card / 1* User manual / 1* Warranty card